St. Francis de Sales History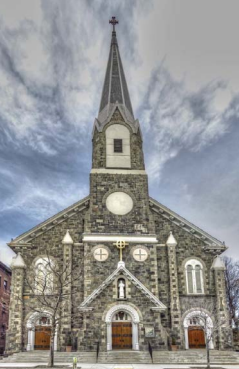 In 1859 Bishop John P. Fitzpatrick, the Third Bishop of Boston, established Saint Francis de Sales Parish on the top of Bunker Hill in Charlestown. Father George Hamilton was the first Pastor. With the assistance of early parishioners Fr. Hamilton built the grand and majestic Irish Gothic Church of Saint Francis de Sales.
Prior to becoming part of the Charlestown Catholic Community collaborative in 2022 eight former Pastors served at St. Francis de Sales among eighty-six priests over the one hundred sixty-three year period. Thirty-six young men from St. Francis de Sales parish went on to become seminarians and entered the priesthood during that time. The large convent housed sisters from many orders including Dominican Sisters – Kentucky, Dominican Sisters (Cloistered), Franciscan Missionaries of Mary, Sisters of Saint Joseph, Sisters of Charity, Sisters of Saint Francis, Sisters of Mercy, Sisters of The Cenacle, Carmelite Sisters, Sisters of Notre Dame, Mission Helpers of The Sacred Heart and Little Sisters of the Poor.
The contemporary accounts of the cornerstone ceremonies in The Pilot relates that the speaker's platform was occupied by Mayor Dana of Charlestown (the town was not annexed to Boston until 1874) , Commodore Hudson of the Navy Yard and formMayor Frothingham.