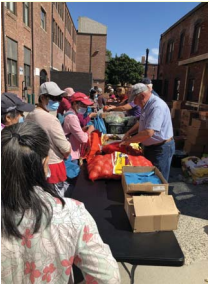 Harvest on Vine
by Tom MacDonald, September 2022
St. Mary-St. Catherine of Siena's Harvest on Vine emergency food pantry is entering its twentieth year of service. Twenty years ago the parish identified food insecurity as an issue in the neighborhood and started Harvest on Vine in response. The goal was to alleviate hunger in Charlestown. We began with seven families and a few volunteers. Today we have more than
six hundred families on our database and over a hundred volunteers. We distribute food twice a month, and we give out food throughout the week.
We never turn anyone away.
During the pandemic the need for food, toiletries, and other items skyrocketed. In response Harvest on Vine increased the amount of food we were giving out. Charlestown residents and organizations ran drives. Our religious-ed students led a hugely successful effort to collect soap, shampoo, and other toiletries. Our St. Vincent DePaul conference, in partnership with St. Francis De Sales's conference, initiated an equally successful towel drive. Another impassioned supporter provided heavy duty shower curtains for our families. The list goes on.
We wore masks and gloves and moved the operation outside. Everyone adapted to the change, bundling up to weather the cold, ignoring wind and snow. We will continue to operate outside to maximize health safety for all.
Generous donors give us the means to provide fresh produce, meat, milk, cheese, and eggs at every distribution. Each month we give out tons of potatoes, onions, peppers, tomatoes, lettuce, bok choy, bananas, and other fruits and vegetables. We survey our clients and order food they like, usually cultural preferences. The Greater Boston Food Bank calls the neighborhood we serve a food desert. Most families don't have transportation to drive
to supermarkets, and the stores within walking distance offer little fresh fare. We aim to bridge the food-desert gap.
Harvest on Vine is blessed to have ample product to distribute. We are doubly blessed to have committed and compassionate volunteers to give it out. The connection between the clients and the volunteers is palpable. These relationships have grown over the years.
God is at the center of this parish program. Sister Kathleen Carven begins each distribution with a prayer. The crux of her prayer is that we see the face of Christ in each person we encounter, and that we welcome each person with dignity and respect. Sister prays for oneness with the poor, for a bond between neighbors. She points out that hard luck can befall anybody. There but for the grace of God go I. We have more in common than we don't.
We all want to provide food for our families. We all want to be loved and valued. This is Harvest on Vine's hope, to promote a loving and accepting community. We are still learning how, and we always will be. The work is never done.



Our Cook Out
Wednesday, June 29th. 2022
 

This emergency food pantry serves over 300
Charlestown families each month. At Thanksgiving, numbers increase to close to 600.
For a donation of $35, you can provide a Thanksgiving meal to a
family in need.
Harvest on Vine offers a variety of items each  distribution. The items greatest in need are:


Rice (1-3 lbs. bags)
Low-sugar cereals
Pasta
Macaroni and Cheese

Thank you for supporting those in need.
Harvest on Vine thanks you for your support!
Harvest on Vine has not missed a single distribution since COVID hit, and it hit the poor extra hard. The demand for food, and the number of Charlestown families that need food has increased. The price of food has also increased. Thanks to your generosity, we've been able to meet the demand.
A statewide survey conducted by the Greater Boston Food Bank (GBFB) showed that food insecurity in Massachusetts grew 55% during the pandemic. (See "Gaps in Food Access During the COVID-19 Pandemic in Massachusetts") In response to this gap, Harvest on
Vine doubled the amount of food we distribute. Because of the Pandemic, families are now able to receive food twice a month. (Pre-pandemic, our families came once a month.)
The amount of fresh produce and fresh milk we supply has tripled.
According to the GBFB study, a major barrier to families getting the food they need is the stigma  associated with poverty. We are aware of this stigma, and we continually address it. Our volunteers do an outstanding job welcoming our clients. They treat each person with dignity and respect. This openhearted atmosphere makes it easy for clients to check in. We have never turned anyone away.
The Charlestown community has been charitable to Harvest on Vine, and because of your largesse, we have the means to put forth a first-class operation. The families we serve receive a week's worth of food, twice a month. If you would like to support the efforts of
Harvest on Vine, we would be most grateful.
Harvest on Vine
46 Winthrop St.
Charlestown, MA 02129
Tom MacDonald
617-990-7314
tmacdonald@StmaryStcatherine.org
Harvest on Vine
St. Mary-St. Catherine of Siena Parish
<
Heartfelt gratitude to all who have supported our Parish Food Pantry
either with food donations and/or monetary contributions.
Because of you, we have been able to provide a variety of healthy food options to over 500 families each month
(a 100% increase in those who frequented the pantry this time last year).
And thank you to all who participated in the on-line auction. It was a great success!
To the volunteers who make the food distributions run smoothly, thank you as well. Your thoughtful concern and dedication in assisting in this important ministry is truly a blessing to all those who come to the pantry.
Food distributions takes place on the second Saturday at 10:00AM, and the last Tuesday of each month at 2:00PM. If you are in need of assistance, please arrive at the distributions with a proof of residence.
For those looking to volunteer, thank you! Please contact Tom MacDonald at 617-990-7314, or email at  TMacdonald@StmaryStcatherine.org
To donate, please click the button and select Harvest on Vine. Thank you.