The music ministry is always in search new members! 
Our team goal is to grow, inspire and evangelize through sung prayer.
Whether you are a musician or novice please contact John Anthony Volpe our Director of music for information on how you can be part of the team.
Concert Events and Music Recitals 
Some photographs from our December 11th 2022 Holiday Concert featuring the Spectrum Singers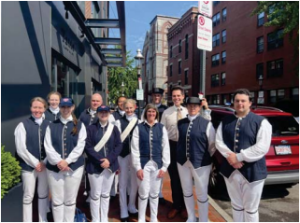 Pictured is the group Middlesex County Volunteers Fife and D r u m s .
( John Nicholes is the director )  with our music director John Volpe
on June 11th, 2022—parade day!
Ave Maria – May 7, 2023
Here I am Lord – May 7, 2023
Hail Mary – May 7, 2023
Christ Be Your Light – Easter Sunday – April 9, 2023
Our Famous Woodbury Organ 
Some photographs from our organ loft with John Volpe at the keyboards !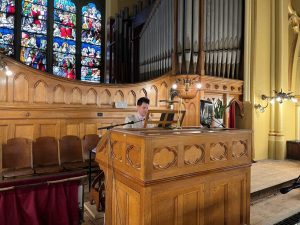 Christ Be Your Light – Easter Sunday – April 9, 2023
One Bread, One Body – April 8, 2023, April 7, 2023