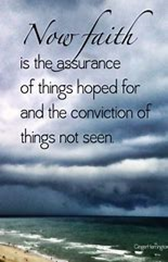 What is faith? The writer of the Letter to the Hebrews tells us: "Faith is confident assurance concerning what we hope for, and conviction about things we do not see." It is not a function of organic vision. Rather, it is an act of seeing in trust.

Long ago, when I spent a month working at the "house of the dying" in Calcutta, I sought a sure answer to my future. On the first morning I met Mother Teresa after Mass at dawn. She asked, "And what can I do for you?" I asked her to pray for me.
"What do you want me to pray for?" I voiced the request I had borne for thousands of miles: "Pray that I have clarity." She said no. That was that.
When I asked why, she announced that clarity was the last thing I was clinging to and had to let go of. When I commented that she herself had always seemed to have the clarity I longed for, she laughed: "I have never had clarity; what I've always had is trust. So I will pray that you trust." Thus Mother Teresa became for me a member of that cloud of witnesses to which the Letter to the Hebrews refers: heroes of faith, who had conviction about things unseen.

So it was with Abraham and Sarah, who believed they would give birth to a child in their old age (the very idea was enough to make Sarah laugh out loud) and make "descendants as numerous as the stars in the sky and the sands of the seashore."

The Letter to the Hebrews celebrates the faith of Abel, dead but still teaching us; of Noah and his improbable ark; of Jacob, at death's door, finally able to bless Joseph's sons; of Moses, the child unguarded and abandoned, who would one day lead a nation) against impossible odds, into a territory his feet would never touch.
Faith felled the walls of Jericho and saved the prostitute Rahab. It was faith, the letter says, that discovered new lands, bestowed wondrous strength, and inspired uncommon courage in ordinary men and women. Some were pilloried, flogged, even chained in prison, stoned, beheaded, homeless, dressed in rags, penniless, given nothing but ill-treatment, living in caves and deserts and ravines." (Heb 11:33) They were all heroes of faith, the letter continues, but they did not live to see what was promised.
How much we have to learn from the great ones who have gone before us, not only the Hebrew saints praised above, but our own as well—those who, after Christ, believed in him despite adversity. We imagine faith to ease confusion, dull the pain, redeem the times, but we miss the testimony of the clouds of witnesses. Our faith does not bring final clarity on this earth. It does not disarm the demons. It does not still the chaos or dull the pain or provide a crutch so we might walk. When all else is unclear, the heart of faith says, "into your hands I commend my spirit." So it was with all our heroes.
These died in faith. They did not obtain what had been promised but saw and saluted it from afar … searching for a better, a heavenly home. (Heb 11:13)

John Kavanaugh, SJ
Center for Sunday Liturgy https://liturgy.slu.edu/19OrdC080722/
theword_kavanaugh.html
Peace is the ardent yearning of humanity today. Consequently, there is an urgent need,
through dialogue at all levels, to promote a culture of peace and nonviolence. This dialogue must invite all people to reject violence in every form, including violence done to the
environment. —Pope Francis
Have you been worshiping with us, but never officially took the step to become Catholic? Have you been away from the church and have now returned, but want to know more?
Have you been a Catholic all your life, but never celebrated all the Sacraments of Initiation (Baptism, Confirmation, Eucharist?)
Have you joined us from a different background and would now like to find out more about the Catholic
Church?
If any of the above questions apply to you, we are here to accompany you on your journey of faith. Or, if you know of anyone who could answer YES to any of the above questions, perhaps you could extend an invitation to them!
In recent years, there has been a great increase in the number of adults who are joining the Catholic Church. RCIA is a program designed to help non-Catholics and non-practicing Catholics learn more about the Catholic faith through a series of readings, discussions, and prayer time. This program helps people grow in faith and knowledge of God, and develop a deeper relationship with God as they consider becoming Catholic.
If you are not yet sure whether you want to become Catholic, you are still welcome to participate as you make your decision. There is no obligation to join the Catholic Church and regardless of your decision you are always welcome here at St. Mary-St. Catherine of Siena Parish.

Please contact Sr. Nancy Citro, SND deN
at (617) 242 -4664
or ncitro@stmarystcatherine.org
for more information.

Solemnity of the Assumption of the Blessed Virgin Mary is August 15
Note: When this Solemnity falls on a Monday or Saturday, the obligation to attend Mass is abrogated