The Three Pillars of Lent
Our Lenten Mission
Charlestown Catholic Community
"So faith, hope, love remain, these three." 1 Cor 13:13
Monday, March 20 6:30 pm St. Mary's Church 55 Warren St.
Faith with Michelle Sylvia
Michelle is a graduate of Georgetown University who worked as Director of Faith Formation for 25 years at Sacred Heart Church in Middleboro, now part of St. Isidore Parish. At Sacred Heart, she served first as Confirmation Coordinator and Youth Minister. In 2003 she became the Director of Generations of Faith, as she implemented the intergenerational faith formation program first at Sacred Heart and later in the Cranberry Catholic Collaborative. She has also volunteered as a cantor for 30 years. Newly retired from parish work, she hopes to continue her ministry as a guest speaker in area churches.
Michelle resides in Lakeville with her husband Bill and is mother to her two adult sons, Aaron, and Nathan. In her free time, she enjoys fishing, singing, playing piano, spending time in New Hampshire, and traveling.
Our Lenten Mission
Charlestown Catholic Community
"So faith, hope, love remain, these three." 1 Cor 13:13
Tuesday, March 21 6:30 pm St. Francis Church 303 Bunker Hill St.
Hope with Eleanor Hurley
Eleanor is the Director of Health Services and a Theology teacher at Cardinal Spellman High School in Brockton. She has been an RN for over 10 years working in a variety of pediatric settings ranging from severe traumatic brain injury to primary care. Her love for learning and longing to grow deeper in her faith brought her back to school where she completed her Master of Arts in Ministry degree from St. John's Seminary in Brighton in 2019. Most recently she completed the Spiritual Direction Certificate Program at St. Anthony's Shrine in Boston and is ministering to people by providing spiritual direction in her community.
She is a wife, dedicated mother of 5 and grandmother of 4, as well as an active member of St. John Neumann Church in Freetown. Eleanor has been involved with parish life for many years engaging in developing workshops, retreat planning and faith formation. Currently she has returned to school to pursue an advanced degree in nursing. She hopes to intermingle her holistic approach to care of the whole person by emphasizing the connection between mind, body, and spirit. Through nursing and ministry, Eleanor hopes to continue to lead people to Christ through her actions, witness, and pastoral care.
Our Lenten Mission
Charlestown Catholic Community
"So faith, hope, love remain, these three." 1 Cor 13:13
Wednesday, March 22 6:30 pm St. Mary's Church
Love with Margo Morin
Margo worked in parish ministry for over 25 years, starting in Youth Ministry and eventually working through the lifespan, creating faith formation programs that helped people of all ages ask great questions and grow in faith. She earned bachelor's degrees in psychology and religious studies from Notre Dame College in Manchester, NH (RIP) and an M.Ed. in Religious Education/Lifelong Faith Formation from Boston College. She is certified as a Pastoral Associate and as a Spiritual Director. She currently serves as the Catholic Pastoral Associate at a retirement village in Peabody.
Margo was born and raised in mid-coast Maine; she has lived on the North Shore of Massachusetts for over 30 years but still considers herself a Mainer at heart. Margo has been married to Scott, also a minister, for over 20 years. She loves to hike, read, hang out on the porch, and can recommend your next favorite podcast in almost any genre.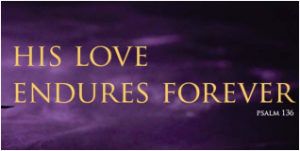 Lenten prayer and Reconciliation service
Thursday, March 30 at 6:30 pm
As Easter approaches, consider setting an hour aside and come to our Lenten evening of prayer. In a serene and reflective atmosphere, we will pray together as a community of faith, contemplating God's love, mercy and action in our lives. The evening will conclude with an opportunity for individual confession. Join us!
A BRIEF EXAMINATION OF CONSCIENCE BASED ON THE TEN COMMANDMENTS
I am the Lord you God: You shall not have strange Gods before me.
Have I treated people, things or events, as more important than God?
You shall not take the name of the Lord your God in vain.
Have my words, actively or passively, put down God, the Church, or people?
Remember to keep holy the Lord's Day.
Do I go to Mass every Sunday (or Saturday vigil) and on Holy Days of Obligation?, Do I avoid, when possible, work that that impeded worship to God, joy for the Lord's Day, and proper relaxation of mind and body ? Do I look for ways to spend time with family or in service on Sunday?
Honor your father and your mother
Do I show my parents due respect? Do I seek to maintain good communication with my parents where possible? Do I criticize them for lacking skills I think they should have?
You shall not kill
Have I harmed another through physical, verbal or emotional means, including gossip or manipulation of any kind?
You shall not commit adultery
Have I respected the physical and sexual dignity of others and of myself?
You shall not steal
Have I taken or wasted time or resources that belonged to another?
You shall not bear false witness against your neighbor
Have I gossiped, told lies, or embellished stories at the expense of another?
You shall not covet your neighbor's spouse
Have I honored my spouse with my full affection and exclusive love?
You shall not covet your neighbor's goods
Am I content with my own means and needs, or do I compare myself to others unnecessarily?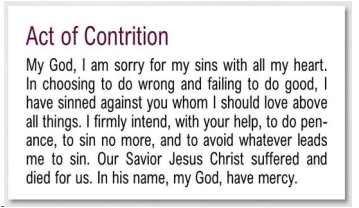 PALM SUNDAY – April 2nd.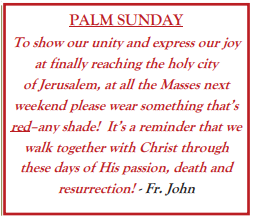 HOLY WEEK

TRIDUUM

Easter Sunday Masses  – April 9th.
St. Mary Church 8:00am and at 11:00am St. Francis Church 9:30 am


11:00am Livestream Link