News from St. Francis de Sales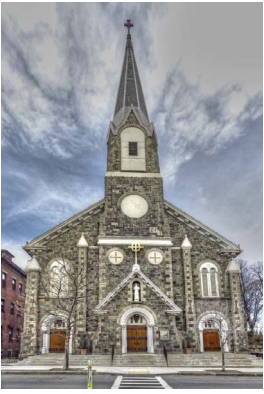 GIONTONIO, SULLIVAN & CRYAN FAMILIES; Saturday, March 25 at 4 pm
JACK O'CONNOR– Sunday, March 26 at 9:30 am
WEEKLY MASS FOR VOCATIONS TO CONSECRATED LIFE, THE PERMANENT DIACONATE & PRIESTHOOD – Monday, March 27, 8:00am
WEEKLY MASS FOR THE MEMBERS, BENEFACTORS & FRIENDS OF THE PARISH – TUESDAY, MARCH 28, – 8:00am
WEEKLY MASS FOR THE SICK MEMBERS OF THE PARISH – Wednesday, March 29, 8:00am
SANDRA CARDOSO LOPES & FLAVIA LOPES; Saturday, April 1 at 4 pm
PALM SUNDAY—Sunday, April 2 at 9:30 am
THE SANCTUARY CANDLE
The Sanctuary Candle on the Blessed Sacrament Altar is a visible sign the real presence of Christ in the Blessed Sacrament is present in the Tabernacle. Here in Saint Francis de Sales the Sanctuary candle burns daily in the Upper Church and in the Chapel of All Souls in the lower Church. The Sanctuary Lamp is a seven day candle. If you wish to donate a Sanctuary Candle that burns for one week in Memory of a Loved One or in Honor of a Family Member or friend, kindly contact the Rectory Office at 617-242-0147 or see the Ushers at the weekend Masses. The suggested offering is ten dollars. The name of the person in whose Memory or Honor the Sanctuary Candle is lit will be noted in the Parish Bulletin.

STATIONS OF THE CROSS
Friday evenings during Lent at 6 pm in the Chapel of All Souls.
SACRAMENT OF RECONCILIATION
Friday evenings during Lent at 6 pm in the Chapel of All Souls.
THE WEEKLY OFFERTORY COLLECTION
If you would like to receive the Sacrament of Reconciliation, please come before the 4 pm Mass on Saturdays.
WE ARE GRATEFUL TO YOU
We are grateful to you for your offerings from the weekend of March 5
$1,687.00 contributed to the weekly Offertory, And $331 for the Religious Education Collection
SAINT VINCENT DE PAUL
Be mindful of the poor among us by assisting the Saint Vincent de Paul Society by way of their collection boxes at the doors of the Church. The weekly offerings given to the Parish Conference of the Society are their main source of income in assisting the needy of the Parish.
NEW PARISHIONERS
It is always encouraging to see new faces at Mass. We warmly welcome all of you who are newcomers to Charlestown and to Saint Francis de Sales. We receive many requests for recommendations for individuals who are asked to be sponsors for Baptism and Confirmation. It is necessary, for us to know you to comply with these requests for letters of recommendations. It is important, too, that you are on the Parish Mailing List for Sacramental Records as an active practicing Catholic. We invite you to fill out the Registration Form.
Register as a parishioner of St. Francis de Sales