We all have our way of doing things and looking at situations. Usually, we believe ours is the best way. Honest conversation between friends can include
sharing our points of view and trying to persuade another that our vision is more correct then theirs. For example a couple of guys discussing sports who are avid fans – maybe for opposing teams (i.e. the Bengals vs. the Pats) – loud conversation will follow! Child rearing practices can get us going as well (i.e. let the child decide vs. make the choice for the child). In every case, it takes a bit of patience and openness to hear another's point of view that is very different from one's own (i.e. a republican listening to a democrat and visa-versa).

Today's feast, The Epiphany, is one of those remarkable moments in our history when we are all called to think differently. The deepest meaning of this
celebration pushes everyone out of his/her comfort zone to think of God in a
new way. Consider the situation: Jerusalem is a big city, nonetheless likely a
small town in many ways. The arrival of three very different and important
strangers (language, color, dress, customs, foods, etc.) asking questions about a
local reality (a newborn king of the Jewish people) evokes attention up to the
local king. – "Who are these people and why on earth would they have traveled so far to this place? And what is this about a king?"

So uncommon would such an event be that people took notice. We should too. "From the East, they came" and to find and pay homage to a newborn King.
We read that they followed the star from Jerusalem and found their way to the
stable in Bethlehem. In spite of the humble circumstances of the place, they recognized the King and offered their gifts.
God's Son has been born into our world and His purpose and interests are not limited by race, color, ethnic background, social class, gender, political position or any other common distinction that differentiates us one from another. The
Epiphany insists that you and I think of God as bigger than we usually do. The
implications of this thought are significant. For example, all those whom we consider our enemies, may not be God's enemies. The whole philosophy of war and capital punishment, immigration and refugees, gays and straits, rich and poor, and on and on takes on a new perspective in light of the Epiphany. The insistence of Jesus in Mt. 25, "Whatever you do to the least… you do to Me" flows from our understanding of the Epiphany.

An epiphany is understood as a moment of new awareness or insight that opens up a fresh way of looking at something. No wonder this beautiful word has been incorporated into our vocabulary. What a great way to start the New Year – with an epiphany on the Feast of the Epiphany!

Fr. Ronan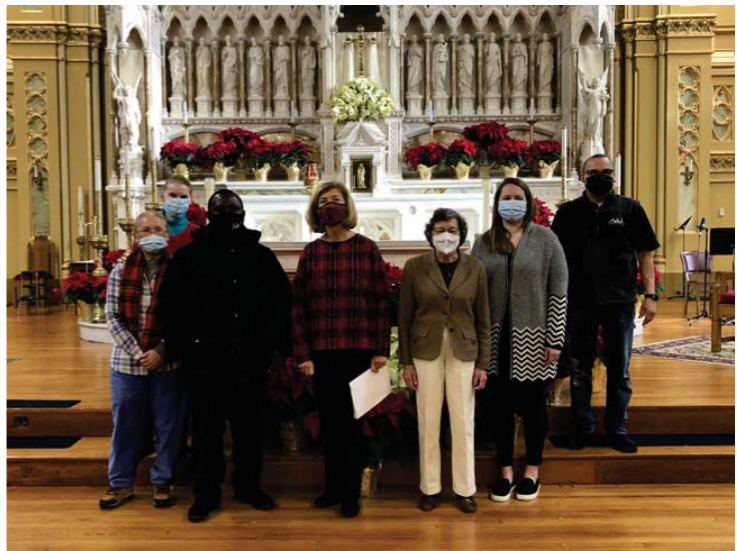 Heartfelt gratitude to all who were able to decorate our beautiful church for Christmas. Featured in this picture left to right are Maria, Jeanne, Fr. Mark, Nancy (who has the wonderful artistic vision), Shirley, Lauren, and Oscar. Not featured in the picture are: Lynne, John, (our Music Director who also has that creative gift and added the greenery and ribbon that's is weaved across the flowers and added the wreath on the choir loft), James, Jim, and John, who picked up the flowers in Danvers.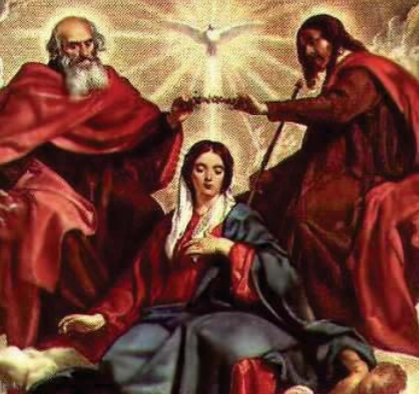 January 1 – Solemnity of the
Blessed Virgin Mary,
the Mother of God
Saturday, January 1, 2022 In today's first reading, God bestows three blessings upon Moses and directs him to extend those blessings to others:
The Lord blesses you and keeps you.
The Lord lets his face shine upon you and be gracious to you.
The Lord looks upon you kindly and gives you peace.
Good stewards realize these blessings are showered upon them in a unique and special way each time they receive the Eucharist, and exercising good stewardship of the Lord's blessings in this sacrament begins by receiving these gifts with profound gratitude.
Take time this week to memorize these marvelous blessings and repeat them to yourself frequently.
Make them part of your morning prayer each day.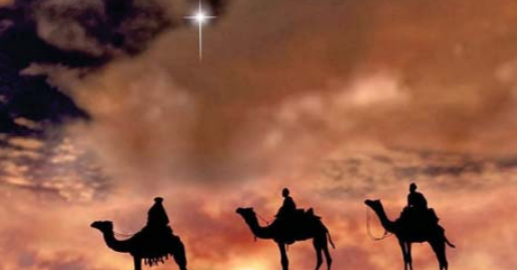 January 2
The Epiphany of the
Lord
The readings today stress the importance of light – Christ's light. Isaiah states,
". . .upon you the Lord shines."
The Magi followed the light of a star that led them to Christ, the Lord, an encounter that changed their lives.
Do you believe that the Lord looks upon you and shines forth from you?
Has each encounter you have had with Christ brought about a change in you, in your way of living?
When you humbly and honestly follow Christ and live in his light, "nations shall walk by your light."
People will notice something different about you.
So on this Epiphany – let your Christ Light shrine!