My brothers and sisters
in Christ:
https://stmarystcatherine.org/wp-content/themes/osmosis/images/empty/thumbnail.jpg
150
150
St. Mary St. Catherine of Siena
St. Mary St. Catherine of Siena
https://stmarystcatherine.org/wp-content/themes/osmosis/images/empty/thumbnail.jpg

Advent is my favorite time of year- the world is transforming, and hopes are high- we're all looking forward to things to come. Plans are being made, dreams are shared, and the Scriptures sing of prophets with messages of hope. It's a time of beginnings- and we begin together here in this great town of rich history and cutting-edge hopes for the future. Both parishes have great histories and traditions (thank you, Frs. Mahoney, Ronan, and Frs. Vin & Ron) and I'm privileged to help write the next chapter of what's ahead.

An introduction, I believe, is in order: My father, Denis, came from Louisburg, Co. Mayo, my mom, Elizabeth, was baptized right round the corner from here at St. Joseph's in Somerville and grew up in Waltham and Newtonville (they met while she was working at Filene's in town).

I grew up the eighth of nine siblings (who I am very close to) in Newton Upper Falls, went to Mary Immaculate of Lourdes parish and through the Newton Public Schools, and entered the seminary in 1982. I was ordained on June 16, 1990, and have served in a variety of places, in city, suburban and even rural parishes.

I am a part of the Vatican II/Pope John Paul II generation, inspired by his call on that rainy day in 1979 in the Boston Common, challenged and encouraged to minister to all peoples, especially the poor. I am a devoted Bruins fan (I can recite the entire '71-72 roster) and Red Sox fan, and enjoy movies, music, and technology.

I come here as pastor of two parishes with the goal of building a collaborative- something I've done twice before and look forward to being about again- working with staff, councils, and the people of the parishes of Charlestown. I'm already impressed with what I've already seen, and I can't wait to get to it.

The first weekend of Advent marks the beginning of the liturgical year, and the perfect opportunity to start. May our Blessed Mother bless us as we begin together. St. Mary, St. Catherine of Siena, and St. Francis de Sales, pray for us.

Fr. Sheridan
The Feast of the Immaculate Conception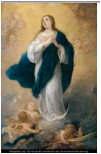 We are celebrating the feast on Wednesday, December 7 with a vigil Mass at 6:30 pm in the Church and an 8:00 Mass on December 8 in the Church. It is a Holy Day of Obligation.
Advent Prayer and Reconciliation Service Thursday, December 15 at 6:30 p.m. in Saint Mary's Church.
The Advent Season is an appropriate time of year to reflect on our lives in a Sacramental way,
and to engage in special moments of prayer to prepare for a new birth of Christ in our hearts this Christmas season.
It's a time to set our course for the New Year!
Let's come together as a community of faith and give ourselves the gift of time to slow down and ponder the many ways in which God blesses and sustains each of us in our daily lives, and longs to grow closer to us with unconditional love.
At the conclusion of the Service, if you choose, you may receive the Sacrament of Reconciliation privately with a priest. We hope you will join us for this extraordinary time of prayer.
2022 Finance Reports