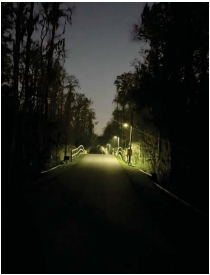 It's been a long road, to get from there to here.
It's been a long time, but my time is finally here.
And I can feel a change in the wind right now. Nothing's in my way.
And they're not gonna hold me down no more.
No, they're not gonna hold me down …
'Cause I've got faith of the heart. I'm going where my heart will take me.
I've got faith to believe. I can do anything.
I've got strength of the soul, and no one's going to bend or break me.
I can reach any star. I've got faith, faith of the heart.
Faith of the Heart, written by Dianne Warren

I took this picture on retreat years ago, and it's one of my favorites. Some people tell me it looks dark and scary, but faith and hope are excited for what awaits. There may be darkness around us sometimes, but the light of Christ that awaits us is greater than any fear or doubt around us.
In today's Gospel, Jesus doesn't hold back- He knows what awaits His disciples, and He challenges them (and us) to keep going, that they're not alone. In five months, shrouded in the dark November sky, we will begin our journey anew, following a star that will lead us to new hope, new joy. Everything would change, and we now await hope's fulfillment in His return.
---
This is Commitment Weekend. We ask that you place your completed envelope in the collection basket. If you left it at home, or still thinking about it, feel free to either mail it to the Parish Office or place it in the collection basket the following weekend. I strongly encourage you to take advantage of the simplicity and convenience of online giving. Thank you!
---
On Sunday, July 2, please note that the Sunday 6 pm Mass is suspended, and daily Mass at St. Francis will be offered at 9 am on Monday & Tuesday, July 3 & 4. I'll be out of state June 28-July 3.
We're nearing our Catholic Appeal goal- 81%- but we need your help to get there- have you given yet? Every donation helps the Archdiocese, and our parish! Go to bostoncatholicappeal.org !
Fr. John Sheridan