I hope we start seeing forever, instead of what we can gain in a day.
I hope we start seeing each other, because don't we all bleed the same?
I really hope someone can hear me, that a child doesn't bear the weight of a gun.
I find the voice within me to scream at the top of my lungs.
From Hope, written by Emeli Sande

November is my favorite month, a time to remember our beloved dead, the souls and saints who teach us by their extraordinary lives and love what this is all about, through our remembrance of the courage and grace of the heroes in our midst on Veteran's Day, to gathering in thanks for all that we've been given, celebrating the King of Peace, Christ our Lord and looking forward to the beginning of our journey to Bethlehem.

Our hearts are heavy with worries of violence and war across our world and around us, and we bring them to Christ. The powers of this world, as awesome as they can seem, bow, trembling before God. May we find courage, surrounded by the whispers and rumors around us, in the truth that we hold deeply in our hearts and speak out boldly for truth, justice, and mercy.
Introducing Gospel Delights!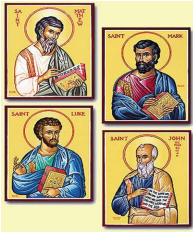 Dear Friends in Christ,
Greetings from Fr. Britto (Dhinakaran Savariyar)! I am extremely happy to introduce Gospel Delights (gospeldelights.com), which is my new blog page to share my reflections on everyday gospel text, including solemnities and feasts. The blog has the picture of four evangelists as its featured image. By God's grace, I would like to continue this new ministry I have taken up.

Kindly pray for me and get back to me with your helpful comments and feedback.
I thank Fr. John for his generous initiative to introduce my blog page to you.
Let us be united in the love of Christ!